Introducing, Monsterhugs newest wrappee: Mr. B!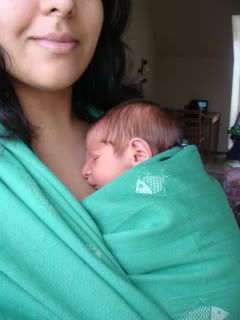 Age at time of photograph: 6 days old
Wrap: Didymos Skanderborg Green Wool Fish size 6,
Carry: Front Wrap Cross Carry
Mr. B was born at home on March 25th, 2011 after a quick and easy labor in water. Monster, the older sister is enamoured and checks on him every morning to make sure he is still around. Please do not try asking her if you can take Mr. B with you, she will not be pleased.